In the forefront of expanding virtual learning, Third Space Global opens its new regional headquarters in Colombo
Would you believe that students in the UK are being taught mathematics by tutors in Sri Lanka? Yes indeed! Third Space Global which provides the ideal platform to online tutors from Sri Lanka to teach UK students is a Sri Lankan operated British owned company, approved by the Board of Investment of Sri Lanka (BOI). The parent company, Third Space Learning, the largest provider of one-to-one Math tuition in the UK, is in the process of building the world's first global teaching network of trained and qualified online tutors supported by the latest technology.
Third Space Global expanding the idea of the virtual learning across frontiers, opened its new regional headquarters at Orion City, Colombo 9, last month.
With the vision of building an internationally recognised centre of excellence in online maths teaching and pupil development, the company is providing mathematics lessons to primary students in the UK by recruiting young Sri Lankans who are willing to take up a career in education and have a passion for the subject to produce effective teaching hours online. Founded in 2015 with 20 tutors, Third Space Global has trained over 200 tutors within the last two years. The young tutors receive 90 hours of training under the guidance of an internationally trained team before they deliver their first lesson.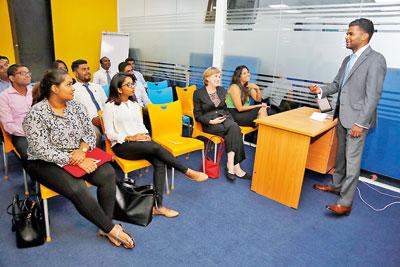 CEO Roshan Nilaweera at the opening ceremony. Pic by M.A. Pushpa Kumara
CEO Roshan Nilaweera was born in the UK and worked as a Math and ICT teacher there, before migrating to Sri Lanka to set up the main regional office of Third Space Global to create employment and training opportunities for young Sri Lankans whilst helping to contribute to Sri Lanka's economic development. "I have always been passionate about education, technology and about helping people to make progress. In the next 18- 24 months we hope to expand our service, to double up the staff, and open new offices around the country," Roshan said at the opening ceremony.
The company provides greater flexibility for young Sri Lankans who are studying allowing them to earn an income while working to improve their job prospects.
Tom Hooper, founder and CEO of Third Space Learning (UK) explained the importance of the virtual learning systems to global education development.
Third Space Global is also keen to support education in Sri Lanka through its innovative CSR (Corporate social responsibility) programmes. From July 31 to September 8, a free eLearning Hub programme was conducted by the company for young learners to improve their English, Math and ICT skills in an independent learning environment. Unlike a school or a tuition centre, the children are free to manage their own learning schedules while developing autonomy and problem solving skills.
The company also looks forward to launch free teaching and learning workshops next summer to support teacher training in the country and plans to be partnered with other potential companies who are interested in this regard.
Back to Updates